Competitions
On this page we will upload competitions that can be entered from home during lockdown
Be Aware kids - Child Safety on Farms
The Child Safety on Farm Campaign are holding their annual competition to help promote safety on the farm. Every year they produce a calendar which contains 12 winning pictures made by primary school children.
They are inviting Primary School pupils (Foundation, Key Stage 1 & Key Stage 2) and pupils from Special Schools to take the opportunity to enter their poster competition which will commence on 1st June 2020 and run for 12 weeks. To do so each child should draw or paint a picture and the design of this picture should be based on the key dangers on the farm from one of the following four categories –
Dangers from slurry
Dangers from farm animals
Dangers from tractors & other farm machinery
Dangers from falls & falling objects
Each week they will invite entries from one of the above categories. The theme for each week will be announced every Monday on HSENI's Facebook page and on their website www.hseni.gov.uk.competition. See Terms & Conditions at the bottom of this competition and they can also be viewed on their website.
Entries should be submitted portrait style on either A3 or A4 sized plain paper. To ensure entry to the competition is as simple as possible this year, they would ask that a photograph or scan of the completed picture is e-mailed to safestart@hseni.gov.uk.
A cover note on the e-mail should state the child's name, primary school attended and contact telephone number for a parent/guardian or responsible adult.
They will select a winner each week for the 12 weeks of the competition and winners will be notified the following week. .
Prizes for each of the 12 winners will be a £30 One4all gift card.
It is important that after a picture is submitted by e-mail, the original hard copy is retained as they will require the 12 overall winners selected to provide this for printing purposes. Please note, failure to provide a hard copy will result in the prize not being awarded.
Terms and Conditions Farm poster competition
This competition is open to all Northern Ireland primary school children (Foundation, Key stage 1 & Key Stage 2) and from children attending Special Schools in Northern Ireland.
By entering this competition you are agreeing to your poster along with your child's name, their age and their primary school being used for promotional purposes eg possibly printed in the 2021 Farm Safety Calendar and promoted via HSENI social media channels.
If your child is selected as a winner you must supply their original picture to HSENI for printing purposes within a week of being notified, HSENI staff will give details via phone on where to post hard copy pictures.
On receipt of your child's hard copy winning poster, HSENI will issue your prize. If you do not supply the child's original poster to HSENI we will unfortunately be unable to issue your prize and will have to select a new winner for that week.
All entries must be submitted portrait style on plain A3 or A4 paper.
All entries should be emailed as a photograph or scanned picture to safestart@hseni.gov.uk. The child's name, school, age and a contact tel no for a responsible adult (i.e. parent or guardian) should be supplied in the email and not be included on the front of the poster.
All entries must be submitted by 4pm every Friday (from w/c 1st June 2020 to 21st August 2020) and the winner will be notified by 5pm no later than the Wednesday of the following week.
Each week HSENI will pick 1 winner, if you are not selected as a winner your poster will automatically be rolled over for entry into the following week's competition.
This competition is not open to the children of HSENI employees.
Only 1 entry is allowed each week from each individual child. Closing date for entries is Friday 21st August 2020 at 4pm.
Prizes for each of the 12 winning entries will be a £30 gift voucher for each individual child for each week.
Each picture must be hand painted or hand drawn and they must relate to one of the key Farm Safety topics, namely:
Slurry Safety
Animal Safety
Falls/falling objects safety on the farm
Equipment and vehicles safety on the farm
Y

our child can win

a £10/€10 National Book

Token

for each of their classmates –
and surprise them all when schools reopen!
Encourage your children to create a fabulous National Book Token design while they're learning from home, and they could return to school with National Book Tokens for all! Whether it's their school crest doodled in ink, a pencil drawing of the entire class, or something completely different, we'll choose one child's design to put on a National Book Tokens gift card every week for seven weeks.
When schools open up again, the young designer and their classmates will each receive a £10/€10 National Book Token – emblazoned with the winning artwork – to inspire them to choose their next favourite book from their local bookshop.
The competition is open from Wednesday 6th May and the closing date for entries is Sunday 28th June 2020.

Click here to find out more
For budding writers aged 6-18. Win up to £200 of National Book Tokens!
Now more than ever is a time for imagination. While our world changes, every day people are finding new, creative ways to tell stories and spread joy. Now is the time to find comfort and inspiration in unbelievable words, extraordinary adventures and magical encounters with big friendly giants and tiny talking spiders. Now is the time to dream.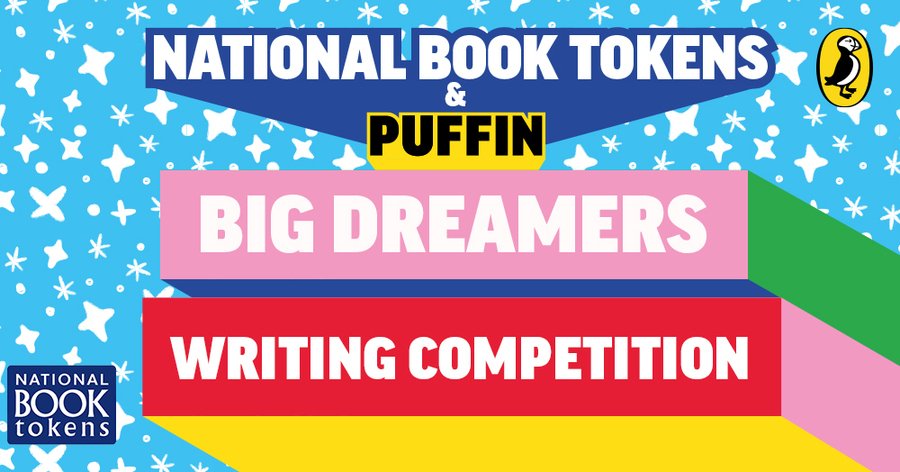 How to enter: ask your child to write a story of up to 300 words, using the theme BIG DREAMS. Submit it here by midnight on 28th May.

They can interpret the theme however they like: an epic fantasy inspired by a dream, an amazing adventure that takes place in another world, or a true-to-life story set in an imaginary school.
The winning stories will be chosen by not one, not two, but six amazing Puffin authors: Nathan Bryon and Sam Copeland (6-10), Robin Stevens and Yassmin Abdel-Magied (11-15), and Emma Smith-Barton and Carrie Hope Fletcher (15-18).
Our esteemed judges will award one winner in each age group the grand prize of a £200 National Book Token, with added prizes of 2 x £100 and 16 x £50 National Book Tokens in each category.
The winners will be announced on Sunday 14th June by the authors themselves at the Puffin Festival of Big Dreams on Puffin Books' YouTube and Facebook channels, and the three winning stories will be published on our website.

We can't wait to read all these big dreams!
UFarmers Weekly has launched a writing competition to help keep farm kids entertained while they're off school during the coronavirus pandemic.
We're asking children and teenagers aged between 4 and 16 to write a short story about their favourite day on the farm. There are three age categories to enter, with a £50 cash prize for each winner, plus a goody bag from competition sponsor Isuzu.
The three age categories:
Ages 4-7 - up to 200 words
Ages 8-11 - up to 500 words
Ages 12-16 - up to 500 words
The deadline for entries is 24 May 2020. The entries will be judged by the Farmers Weekly team and the winners will be contacted by email.
Do you want to learn more about recycling in a fun and informative way and at the same time have the opportunity to win a prize?
The Fermanagh and Omagh District Council area is awash with young artistic talent and the Council is inviting primary school children from across the Council area to get creative while reusing and recycling materials to help the environment.
The competition is open to primary school pupils in the Fermanagh & Omagh district. Entries will be split into 2 age categories: 5-8 year old & 9-12 year old and the winning entry in each category will receive a £20 voucher. There are also 2 runner up prizes of £10.00 vouchers on offer.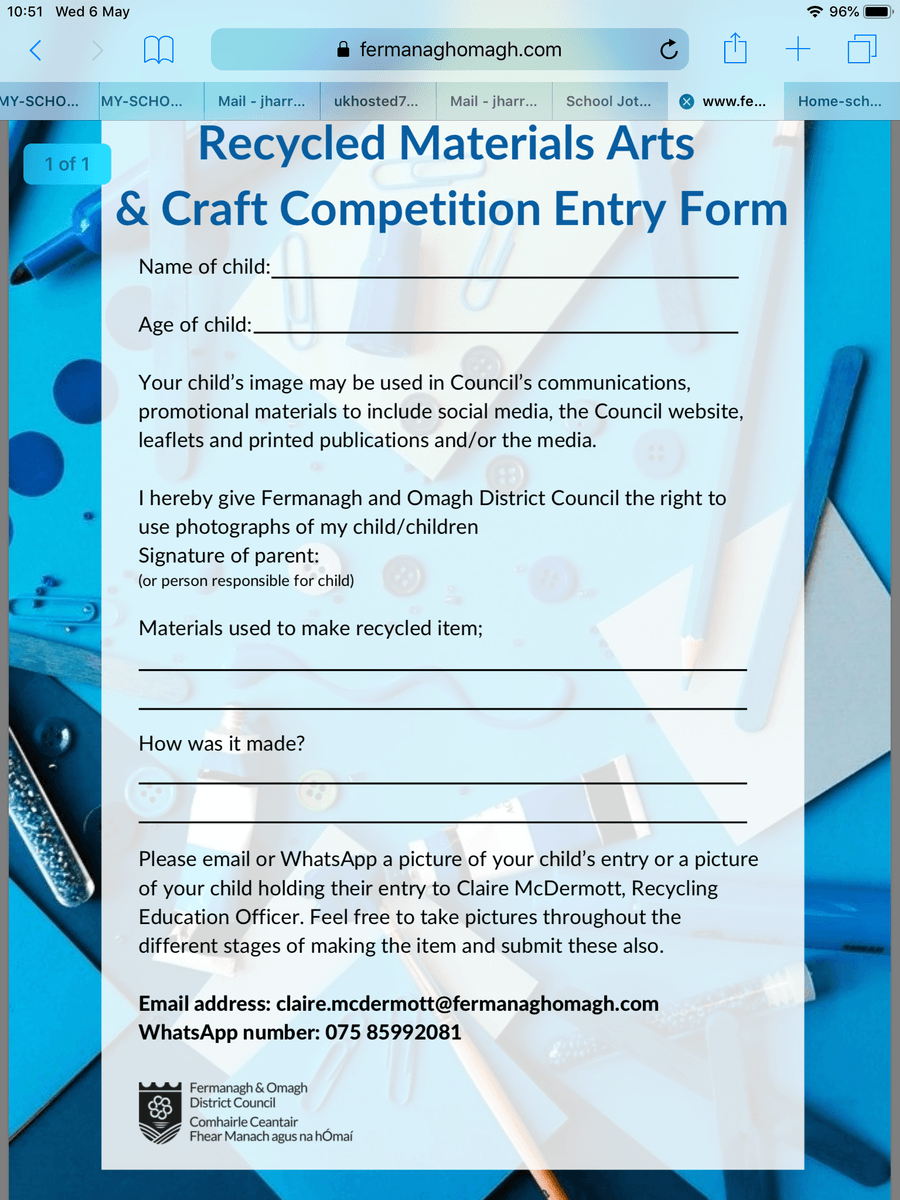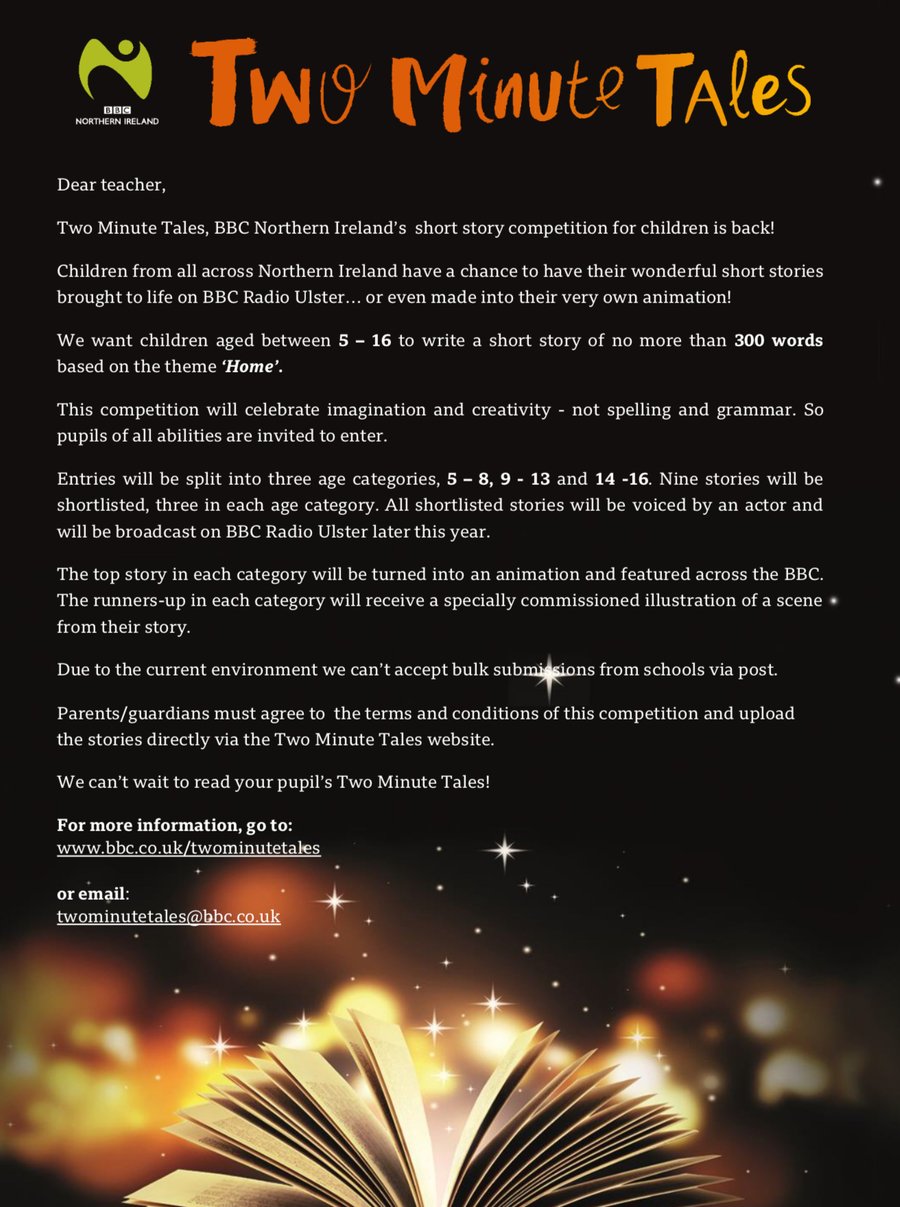 Click here for 2 minute tales link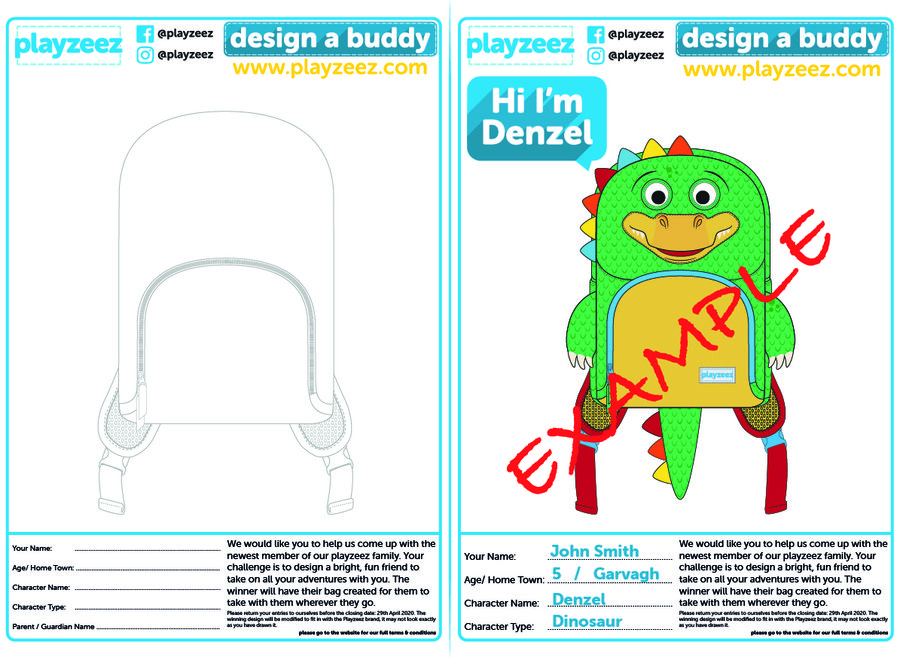 Bring Your Backpack Design to Life Competition
We want the children to draw their own backpack, which we have created a template for on our website. We have laid this out in a simple and effective way so it will be easy for parents to understand and kids to take part in.
The 1st place prize will be the backpack they have designed brought to life, based on their drawing. This will be an exclusive backpack, the one and only one in the world.
There will be further prizes given to the kids that place in our top 10 for their drawings.
You can view our competition page online via the below link for more information.
https://www.playzeez.com/playzeez-kids-backpack-competition.html
ART Competition
I'm contacting you from the learning department in BBC Northern Ireland about the launch of The Wonder Gallery, a new digital art exhibition space to inspire creativity in young people aged between 4 and 18.
Every week, we're inviting budding artists to submit an electronic copy of a new piece of art they have created - it can be on paper with crayon, on canvas with paint, or digitally on a tablet or computer – whatever is on hand at home.
To keep everyone on their toes, an original theme will be set each weekend by an artist on
Radio Ulster's The Culture Cafe.
Our first choice comes from Colin Davidson – well known for his large scale portraits of everyone from Ed Sheeran to Brad Pitt to the Queen.
He has chosen the theme 'Another World', and you can see him talking about his choice here.
More details on how parents can send completed artwork can be found on the website and, once received, we'll upload them to the appropriate age category (4 - 7, 8 - 11, 12 - 15 or 16 - 18) where they will remain.