Welcome to Year 5!
Mrs Sowden is our teacher.
Our new topic is 'Trailblazers' for the summer term! We will be exploring the outdoors and learning about how to make our school more eco-friendly. We will be researching and discovering minibeasts and learning about renewable energy also!
Here is the song we are learning for our upcoming assembly!
Year 5 Shared Education Trip to Millennium Forum to see "Dinosaurs Live!".
What an enjoyable day! We travelled with Year 5 in St. Paul's Primary School to the Millennium Forum to watch a very informative and entertaining show about Dinosaurs. We have been studying playwriting in our shared lessons and our trip concluded this series of lessons allowing us to watch how a play script comes together on a stage in a theatre. We had a marvellous time!
Health Week!
What an active week for Year 5! We all enjoyed taking part in our 'Fruity Faces' whole school competition. Everyone made a huge effort with their wonderful designs and we enjoyed our delicious creations for break!
Science Week!
There was lots going on in Irvinestown Primary School during National Science week. As well as all of the classes taking part in extra experiments and investigations, we invited Sentinus and W5 in to work with us and teach us a little more about the STEM subjects. Year 5 also did some experimenting at home. Thank you to everyone who took part. We really enjoyed seeing the photographs that you sent in and telling each other about our findings.
We have been making our own television advertisements using iMovie! We worked together in teams to advertise our own products.
Pancakes!
We adapted a recipe that is designed for 4 people and used our mathematical skills to calculate the measurements and amounts to allow us to make enough to feed 22! Yum!
Year 5, 6 and 7 visit the NI Science Festival at the Foyle Arena. We had such a fun day and explored lots of STEM activities!
Jeff Gawn, working for Scripture Union NI - E3 Schools project, has been visiting Year 5 each Friday to deliver the 'Amazing Miracles of Jesus' series.
We have been studying Ernest Shakleton's expedition to the Antarctic. We used oil pastels to illustrate the different stages of the brave journey that he made.
We went 'Walking in a Winter Wonderland' right outside our classroom door!
Not only was the snow lots of fun but we were able to carry out some science experiments using snow and using thermometers to measure negative temperatures! We had a lot of fun!
We made Christingles to bring home to our families. We were able to share the important message that they represent.
Electronic information boxes. We have been studying Extreme weather. We incorporated our learning into STEM and created circuits. The lightbulbs in our information boxes highlight areas in the world that are most effected by various extreme weathers. We finished our information boxes by surrounding our world maps with facts about the weather that our teams were focussing on!
We have all worked so hard on our 'Eruption in a box' home projects. We were researching volcanoes! Some of us chose to research volcanoes around the world, and others chose famous eruptions, Pompeii, how active volcanoes erupt and facts about volcanoes. We learned so much from eachother when we presented them to the class.
We travelled to the Lakeland Forum, Enniskillen to watch the Ulster Orchestra perform!
Making robots from 3D junk art. Before making them we designed them, labelling each shape used and listing their properties!
Making chocolate apples and writing recipes!
Year 5 class assembly!
This term our assembly was for harvest! We included our new knowledge about extreme weather around the world and how grateful we are for the things that we have in our country. As a class we also collected for the Enniskillen Foodbank, remembering those in our local community also who may need some support.
Northern Ireland Fire Service Visitor!
Stephen from the Northern Ireland Fire Service came to visit us last week. He taught us how to make sure that our homes are safe and how to check our fire alarms each week. He answered lots of questions that we had also. Thank you for taking the time the speak to us Stephen!
EXTRA! EXTRA! READ ALL ABOUT IT!
Harvest Song practice!
When you are practising at home, why not sing along to the music!
Year 5 African Dancing! Year 6 are currently studying Africa! After their assembly that was all about Africa, they then taught some African songs and dances to each class. This was our class having a go!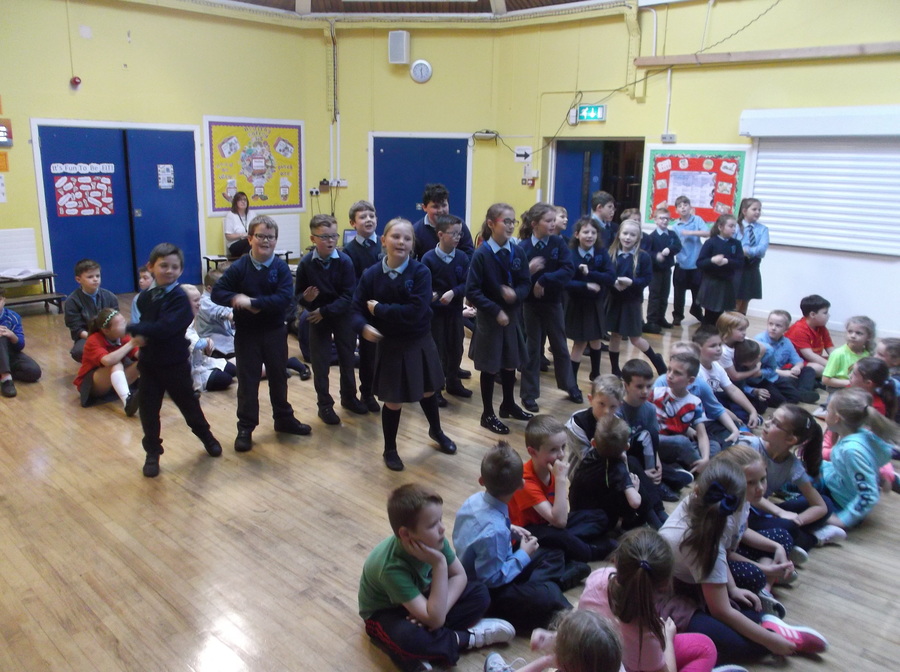 We have been exploring length and measuring in millimetres, centimetres, metres and kilometres! Below are just some of the practical learning activities that we have been taking part in!